4 years ago Useberry started with a single goal in mind – To create a powerful user testing tool that will revolutionize product research and help companies optimize their user experience (UX). With the year coming to a close, it's time to take a closer look at how much we've achieved together in 2022 and put it into our annual infographic.
This year has been a big one for Useberry
We've grown a lot as a company and made some great strides in improving our product.
Here are some of the highlights from this year:
We launched Website Usability Testing, which enables you to conduct user tests on any website and get back actionable insights.
We released a new version of Card Sorting and Tree Testing, which include a number of new features and improvements in setup and advanced insight views to establish the best structure for your information architecture (IA).
We integrated with ProtoPie, so users can now test their high-fidelity prototypes to capture user feedback and eliminate guesswork.
We developed Interactive Clicks, so users can get a precise click-tracking view map that uncovers usability issues from websites and high-fidelity ProtoPie prototypes.
We launched Video Shoots, which provides comprehensive video insights by capturing your user's face, voice, and screen when conducting user tests.
We released a new web integration for Figma and AdobeXD, which allows product designers to easily import their designs and prototypes.
We dropped new updates that speed up and simplify your product research studies.

New User Session management functionalities for your collected responses.
New environment for your recordings. With Theater, you can now see Session Recordings and/or Video Shoots in the same place and easily navigate between user sessions.
New consistent test experience with new design elements for your tests with greater visibility and consistency throughout, and extra functions for an effortless test experience for your participants.

Here's What You Did
We are grateful for your support and are thrilled to see Useberry become a part of your daily workflow.
The number of Useberry users increased 89,2% YoY. That's a lot. Thank you for allowing us to be a part of your user testing journey!
You imported more than 57K prototypes from your favorite tools (Figma, AdobeXD, ProtoPie, Sketch, InVision & Marvel).
You created tests in 23 languages. English was your preferred language, followed by Spanish, Portuguese, and German.
More than 535K people tested your products. Great job; always keeping your users at the center of everything you do 🙂
This year, you embraced Useberry's Participant Pool, which accounted for 30% of your target audience recruitments.
Over 750K Heatmaps, 510K Recordings, and 300K User Flows were generated for your user research studies.
You are located all around the world. Product teams from over 50 countries have trusted Useberry for their user testing studies. We'd like to say hello to some of our new users located in the Ivory Coast, Ecuador, Guatemala, and Kenya. Welcome aboard!
You used a combination of our test blocks to build thorough product research studies and give meaningful tasks and questions for your testers to complete. In total, more than 155K blocks were used.
You sent over 14K studies this year.
Useberry Branding
Useberry's brand image was rejuvenated to resonate with its personality of Vivid, Playful, Intuitive, and Informative. We incorporated shapes, colors, and design elements in a series of templates created to portray our exciting, upbeat, and UX research-based brand image.
We redesigned our blog into an "aesthetically usable online journal" to capture the brand's new identity by combining usability and desirability. The new elements were also incorporated into our social media presence which has been exciting and creative.
As design is an ongoing process – this journey will continue to grow and advance in the future.

Useberry Team
Our team has been working on making Useberry its best version. Their dedication and imagination have inspired us for all that is yet to come. Let us show you what we've been up to.
Our growing team increased by 70% this year with a common vision to build the most powerful and trusted platform for user testing.
As a hybrid and remote-based company, we definitely communicated a lot on Slack. Over 140K messages were sent. We also had 2,882 hours of scheduled and ad hoc meetings to share thoughts and discuss ideas.
Our keyboards were on fire! We wrote 220Κ lines of codes and we're ready to double that in 2023.
We must admit that we are coffee lovers, consuming around 1,420 liters of all kinds of coffee drinks.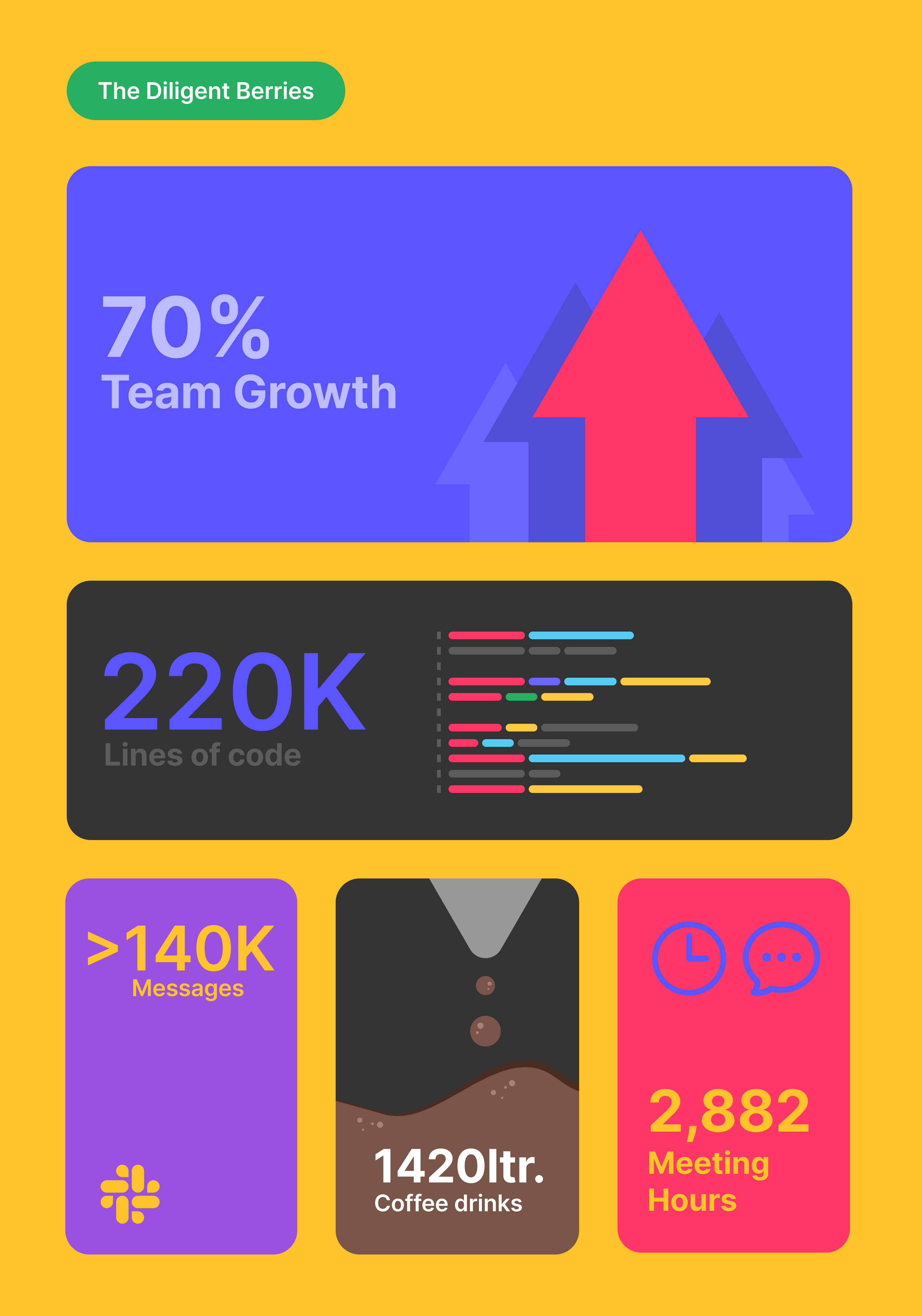 2023 and Beyond
We aim to help make our world an easy and better place, and we are grateful to be a part of your research efforts in making that happen. We're constantly working on new ideas to help you achieve the best experience for your users and uncover their real needs.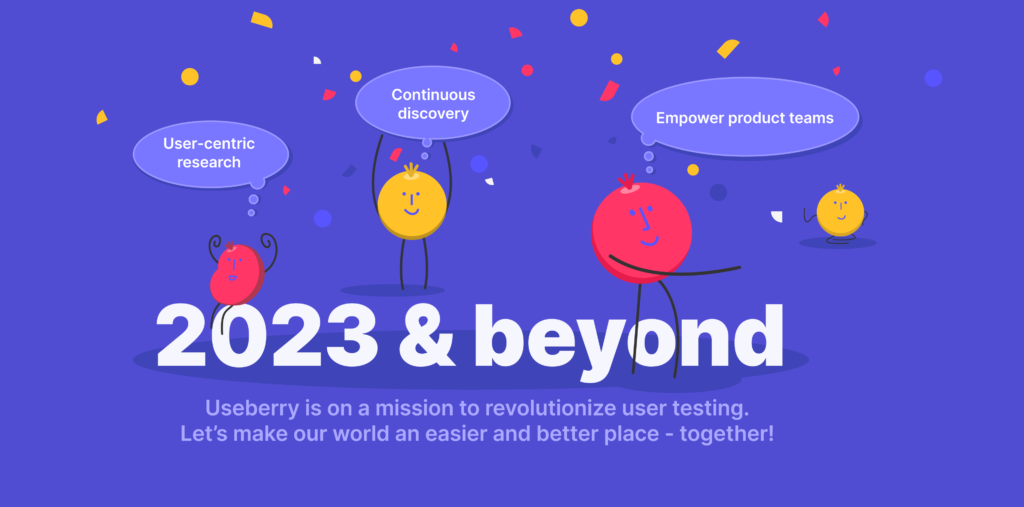 These are just some of the highlights from this year. We're so excited about all that we've accomplished together and we can't wait to show you what we're preparing for 2023.
Thank you all for being a part of our journey; we couldn't have done it without you! ❤️

Feel free to contact us!
We'd love to know your experience with Useberry and we will be excited to hear your thoughts and ideas.