The Customer
FarmRise™ app, powered by Bayer, provides personalized agronomy advisory solutions for India's small and medium land-holding farmers to help them make informed decisions to reduce costs, increase yield, and get better prices for their output. The International Rice Research Institute (IRRI) is the world's premier research organization dedicated to rice science with a mission to abolish poverty and hunger among people and populations that depend on rice-based agri-food systems. In a commitment to empowering more than 100 million smallholder farmers, Bayer is setting out to balance the equation by mitigating risk and making farming more rewarding through innovative digital tools. As part of this effort, FarmRise has integrated with IRRI to provide personalized nutrition advice for paddy crops.
Harshad Gehi, Senior Designer at Bayer Crop Science, and the FarmRise team recognized the need for usability testing in their app design and development process to enable millions of smallholder farmers with access to agronomic knowledge, products, and services.
"Useberry helped us to quickly test our design solution with farmers by providing an option to effortlessly convert our Adobe XD prototype to a test template. It significantly helps to easily conduct testing with a task-based approach and get insights for each task." – Harshad Gehi
The Task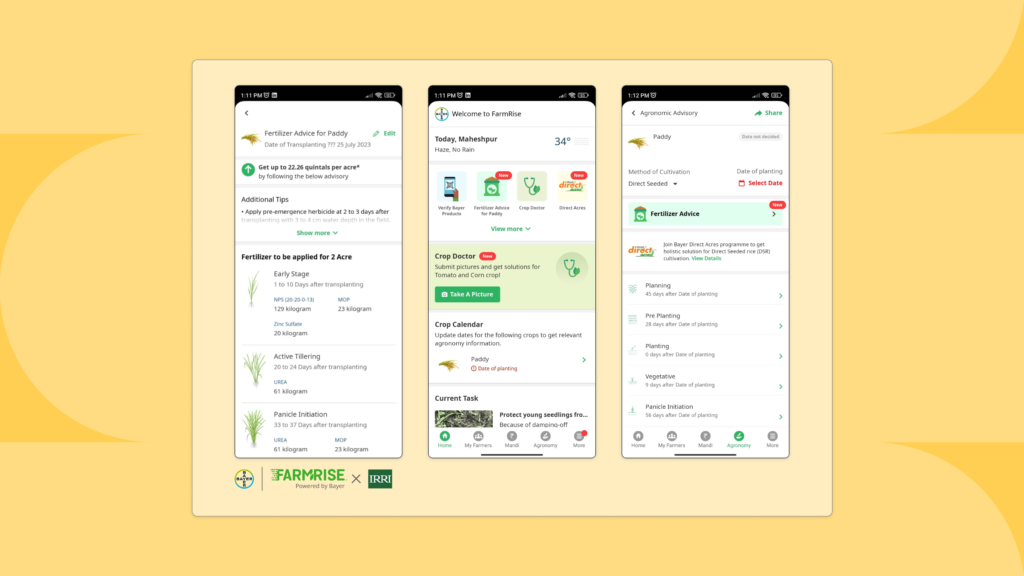 Although farmers in India possess deep knowledge about traditional agricultural practices, they often lack real-time access to unconventional methods for farming. In Asia, farmers typically produce rice on small landholdings, with farming practices varying among farmers and fields. To optimize yields and profit, a change was necessitated with field-specific crop and nutrient recommendations.
The task was to simplify the FarmRise™ app design further, make it more convenient, and motivate users to follow the advisory. The research objective was to understand paddy growing farmers' perspective towards online and offline advisory, test the usability and ease of navigation for the Paddy nutrition advisory, and understand paddy growers' motivation to follow advisory throughout the season.
To gain actionable user insights, FarmRise targeted farmers from villages near Varanasi, Uttar Pradesh, and Pune, Maharashtra in India. The aim was to recruit a total of 40 paddy growers from these villages to participate in the studies.
The type of study primarily needed to focus on usability testing of the prototype using a remote unmoderated user testing tool. FarmRise needed to conduct its usability testing in Hindi and Marathi languages to cater to the local farmers. Additionally, it was necessary to administer a survey to gather data on the participants' demographic profiles and to obtain insights into their fears and motivations regarding the adoption of new methods of agricultural practices.
The Challenge
During their research project, the team needed to address a number of challenges and constraints to achieve success. A significant criterion of this research was ease, particularly in terms of importing their Adobe XD prototype, which was crucial for time-saving purposes.
Another challenge the FarmRise team encountered, was the need to customize the test in order to communicate with farmers in their regional languages. This crucial customization not only is needed to improve communication but also to enhance user experience, foster adoption, and ultimately lead to a more effective and impactful engagement.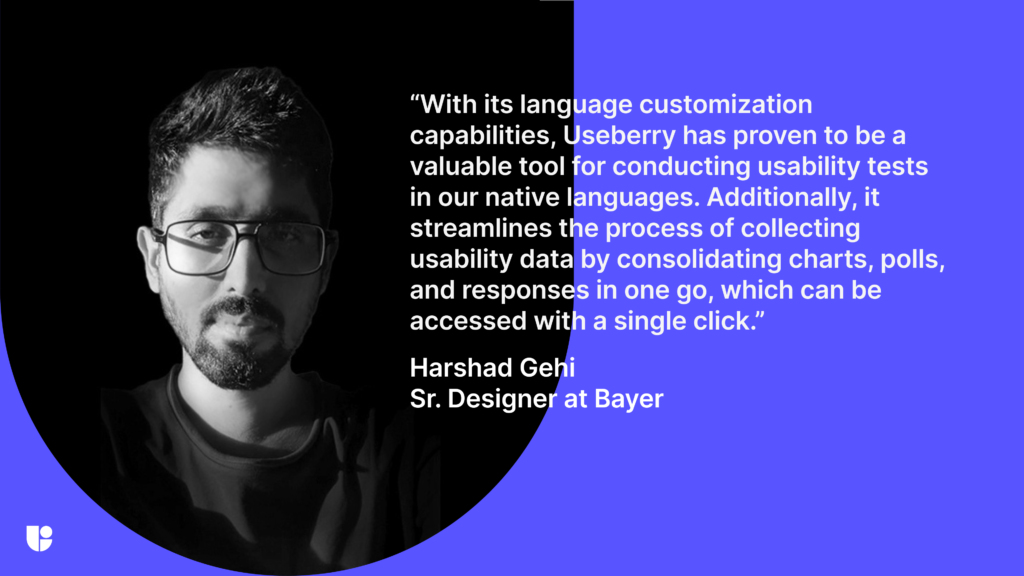 Finally, the manual process of recording observations for a specific screen. To ensure research success, a holistic insight dashboard that could easily extract actionable data from each screen became an important criterion for the team. This comprehensive dashboard would need to include key insights such as user behavior patterns, data visualizations, task completion rates, and click-tracking view maps. Having access to these insights through the dashboard would enable Harshad's team to gain a holistic understanding of user interactions and identify areas for improvement in the prototype.
The Solution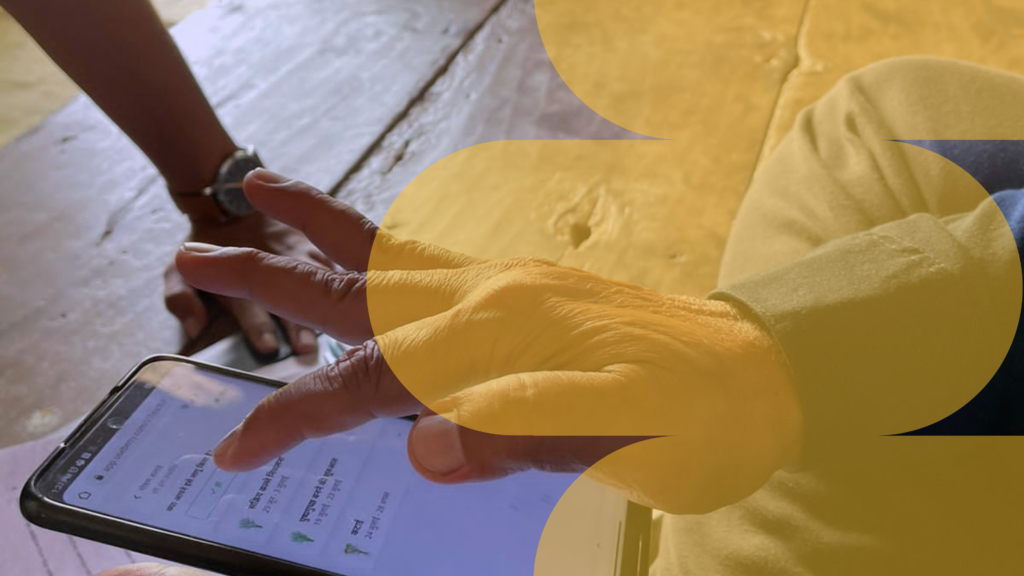 To address the challenges faced in the research study, Useberry provided a robust solution that greatly facilitated the testing of the design solution. Useberry's features and capabilities proved instrumental in streamlining the testing process and generating valuable insights. Here is how Useberry stepped up to the challenge:
"Useberry helped us test our design solution with farmers quickly by providing an option to convert the Adobe XD prototype to a test template effortlessly. It significantly helps to conduct testing efficiently with a task-based approach and get insights for each task with ease." Harshad explains.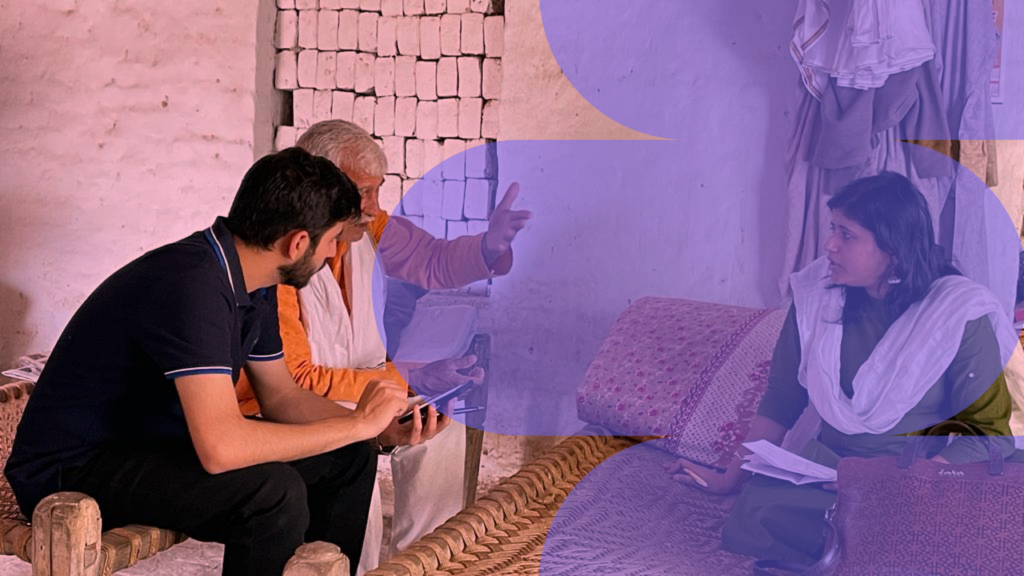 "Useberry helped us communicate with farmers in their regional languages, as it has a feature to customize tests in any language."
Useberry's screen recording feature allowed them to capture user interactions, providing additional insights into user behavior during the testing process.
It was easy to get insights from each screen with

Useberry's dashboard.

Harshad Gehi
The ability to create different versions of the test within the same testing session was a valuable feature that allowed Harshad's team to iterate and fine-tune the test as needed.
The Results
The research study conducted by Harshad's team using Useberry yielded significant outcomes and findings, providing valuable insights into user behavior and preferences. Here are the key results:

Understanding of Landing Screen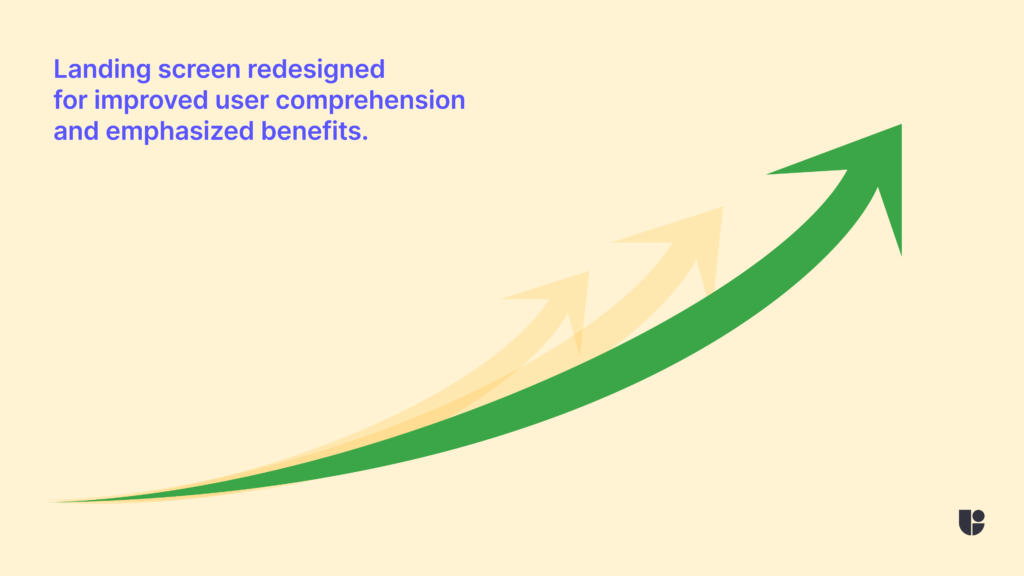 A notable finding was that 65% of the users did not understand the landing screen and its associated benefits. This insight prompted a redesign of the landing screen, placing more prominence on the benefits section and making it easier for users to comprehend. By addressing this issue, the team aimed to improve user understanding and engagement with the feature.

Enhanced User Experience
The research revealed that users did not clearly grasp the concept that the Advisory provided was personalized and based on multiple factors analyzed by IRRI (International Rice Research Institute) at the backend. This insight prompted the team to focus on effectively communicating the personalization aspect to users, building their trust, and encouraging them to follow the advisory.

Optimized Information Architecture (IA)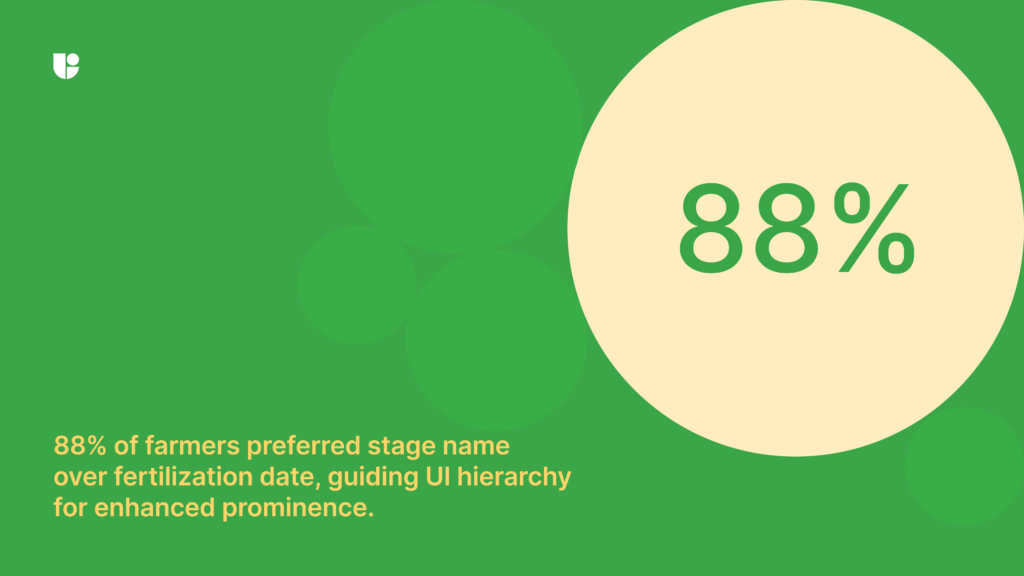 A significant finding was that 88% of farmers preferred to have the stage name upfront rather than the date of fertilization. This insight guided the team in designing the hierarchy of the fields accordingly, ensuring that the stage name received prominence in the user interface.

Tailored Advice Increases Engagement
One particularly interesting insight learned from the study was that farmers were willing to answer more than 10 questions if they received a personalized advisory that could potentially increase crop yields or save fertilizer costs. This finding indicates the high value placed by farmers on tailored recommendations and their willingness to invest time in providing the necessary information for better outcomes.
Feel free to contact us!
Ready to learn more about how Useberry can streamline your product research process? Connect with our experts today and let's explore the possibilities together.